We are at War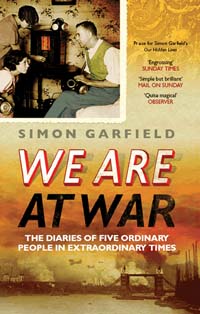 About The Book
We Are At War is the second in the trilogy of diaries from the Mass Observation archive. I like to think of it as a sort of Star Wars sequence – the sequel appearing before the prequel. Our Hidden Lives, the first book in the series, covers 1945 to 1948, from VE Day to the birth of the NHS. We Are At War goes back to just before the war starts, and ends in October 1940. The last book in the trilogy will fill in the gap, and will stretch from the end of 1940 to 1945.

Why this strange pattern? Two reasons. The first is that readers have responded so warmly to Our Hidden Lives (and I loved working on it) that I wanted to read and edit some more diaries from the same source. The second reason is that the diaries peter out after 1948. So I've gone back in time to where the Mass Observation diaries began, and we witness a great drama unfold.
The following is taken from the book's introduction.

'It is splendid,' Christopher Tomlin wrote in his diary on 14 July 1940, 'to know so many buggering Nazis are down.'
Tomlin was a religious man, and Sunday 14 July was a day of fasting. He allowed himself cigarettes, but could barely afford them. His work as a writing-paper salesman barely brought in enough to buy food and cover his family's mortgage. His brother was in the RAF, his father unemployed. He was in his late-twenties, and he was about to be called up.
We know from Tomlin's diary that several other things happened on that day. The Battle of Britain was underway, and Churchill did his best to rally spirits in a speech (Tomlin judged the address a 'grand enervating rag-chew,' and was disappointed with the prediction that the war might last until 1942.) On the same day there was a radio broadcast describing a victorious RAF engagement over the Channel. For Tomlin this was 'an unexpected delight' and he wanted 'more please!' But then a doubt crept in. 'I must confess I'm nervous of this diary being in authorities' hands. It might get me a year or at least 6 months.' He had reason for concern: people were being fined and threatened with prison for expressing despondency, something Tomlin had done often in previous entries. In addition, the threat of invasion had not yet passed.

His diaries survived, and did not land him in trouble. We are the beneficiaries of his endeavours. Each month, despite the rise in postage costs documented in his journal, Tomlin sent his opinions to Mass-Observation, the organisation established a few years before to record the lives of ordinary people. In January 1940, Tomlin explained the appeal: 'The reason why I am keen on Mass-Observation is because it wants to know and inform, tell all classes about the emotion, acts, thoughts and struggles of the ordinary or 'average ' man and woman. Too many articles and books are on high-flown subjects, there are none about the prosaic things of everyday.'

The bulk of Mass-Observation's work was made up of answers to questionnaires ('directives') and diaries maintained by people whose opinions had rarely been sought before. In the summer of 1937, a few months after M-O was born, it already described itself as a 'movement.' One of its many leaflets described how 'intellectuals find it hard to express themselves [but] observation comes naturally to people who are living in the thick of work-a-day existence. Among our best Observers are a mechanic, a coalminer, a waiter, a clerk, a housewife (middle-class) and a housewife (working-class).'

The initial ambitions of M-O's three founders - Tom Harrisson, Charles Madge and Humphrey Jennings - were both grand and modest. They announced their wish to construct 'an anthropology of ourselves', a science of the everyday, something that would demonstrate the impact of society on the individual. It wasn't specifically a class issue, but one of accessibility and visibility; those who took part were not generally in positions of power, much less influence.

The modesty of their ambition was revealed in the observers' first descriptive task, to explain what was on their mantelpiece; mantelpieces, the founders believed, displayed unexpected clues about religion, superstition, personal tastes and the entire life of the home. After this exercise, and for more than a decade, hundreds of people who did not make their living from writing agreed to commit their thoughts to paper; most had never written for public consumption before.
On the eve of the war, those who had previously mentioned their ormolu clock and grandfather's ashes were presented with a sterner task: to record their daily activities as frequently and fully as possible. Almost 500 people contributed something, although many wrote just for a few weeks. Those who wrote consistently, cogently and engagingly contributed to what is now universally regarded as a unique and invaluable record of quiet lives transformed by events far beyond their control.

I first came across Mass-Observation at school, and then again some years later while researching a book about British wrestling. M-O had composed a special study of this strange pursuit, finding in it the perfect framework in which to explore its fascination with working-class leisure and elusive worlds. The study was written up as an essay, and like much of the organisation's early published work I found it to be a rather dry and detached account. But I hadn't yet encountered the raw material.

In 2002 I was invited to look around the M-O archive at the University of Sussex, and it was to be the first of many visits. There in the Special Collections department of the library, among the Virginia and Leonard Woolf papers and the Rudyard Kipling archive, was the most extraordinary display of broad humanity. I had visited the archive (which, predictably, is dutifully and imaginatively maintained despite inadequate funding) with the vague aim of composing a book that would combine some of this writing. The resulting work, Our Hidden Lives, was similar in format to the present volume: five diaries interleaved to provide a very personal picture of a significant period in our history. The period covered 1945-1948, that dark time in which Britain struggled from victory to prolonged hardship. When I first examined the M-O diaries I believed that there was probably little to add to the extensive studies of the Second World War, and I purposely chose a less travelled path. But then I looked again.

It is the personal accounts that will always fascinate us most. The allure lies in the minutiae and incidentals, the factors that Arnold Bennett once called 'the interestingness of existence.' The unexpected juxtapositions provide another delight. The five diarists selected here have been chosen for their diversity of employment, location, and domestic situations, and for their contrasting styles of writing and personal interests. They often comment on the same events, but they are not a representative sample of anything; they are far more important than that.

Christopher Tomlin uses his diary as an adjunct to his church confessions. We learn of his strained relationship with his father, the pressures of debt, his admiration of his brother, his growing feeling of helplessness in what he sees as the bungled prosecution of the war. Many times we read of his attempts to cheer up his customers on his daily rounds, just as the conditions for his writing paper business deteriorate. And seldom can there have been a more description of the fear of invasion. It may seem slightly comical to us now; our most enduring image of 1940 remains Jones the Butcher exhorting us not to panic. But for Tomlin the threat is very real. 'Germany will invade us on Friday!' he writes in mid-July. On Friday he reports, 'No invasion yet!' and then, because normal life is all we have, he adds to the same day's entry that he has begun to use hair pomade. 'I don't know why I use it now; I pride myself on not caring two hoots what I wear or look like. Mother is responsible for whatever neatness speaks for my dress. I'm bohemian.' Shortly afterwards he takes his medical exam for enrolment in the RAF, and finds that he cannot touch his toes. The next day, as he awaits the date of his posting, we find him doing bending exercises.

In addition to Tomlin, there is Pam Ashford, 37 when the war begins, a secretary in a coal exporting firm in Hope Street, Glasgow, living at home with her mother and brother, a member of the Soroptimists, a self-confessed hoarder, a perceptive and secretive correspondent of brisk office life (introducing Miss Carswell, Miss Crawford and the indefatigable Miss Bousie, whom our diarist regards, with much justification, as providing superior entertainment to anything available in the music halls.) Ashford's Glasgow presents an informative vantage point of the unfolding crisis. Her shipping trade is intricately bound up in the progress of the war, and her holiday plans are disrupted by activity in the Firth of Clyde, and yet the preparatory activities that concern the citizens of other big cities – the gas-masks and air raid drills – immediately acquire a comical air. But Ashford's involvement in the war is anything but remote. Her client list changes dramatically as the war unfolds, and she wonders often about the fate of her friends in Germany and Holland. Her brother Charlie is a key figure in Scottish air defence, and both of them come from a naval family anchored in Portsmouth and Devonport, Plymouth. She is touched so deeply by the sinking of the Royal Oak that she thinks her colleagues will have difficulty comprehending her emotions. But the readers of her diary will have no difficulty. Her father built the ship, and it was the custom for wives and daughters to hammer in an early rivet. 'Ever since [I] have thrilled with pleasure to think I had my place in the fleet. And now my name has gone to the bottom of the deep blue sea.'

Then there is Eileen Potter, 41, forever groping her way through dark London, a keen tennis player and sword dancer, an evacuation officer for the London County Council. Many have written of the departure of children and mothers from the capital, but there are fewer accounts from the administrator's viewpoint, and fewer still of the chaperone's. We have read of the heartbreak of departure and 'strange country ways' before, but we are less familiar with the stories of children who have seldom travelled on a moving vehicle, and are consequently sick all the way to the Somerset. Potter's painstaking chronicles of motion sickness and other ailments supply the perfect example of the value of Mass-Observation: in more formal and broader histories the details are included as illustration, but here the details sketch the big picture.
One evacuee is Tilly Rice, mother of three, married to a distant man at the Home Office, writer of short stories, fan of her local brewery, beginning the war in Port Isaac. Here she is safe and bored, longing for the war to start in earnest. She returns to her home in Surrey in time for the bombs, and her children provide a soft-hearted glimpse of what it was like to have such thrilling adventures.

Readers of Our Hidden Lives will recognise the fifth diarist, Maggie Joy Blunt, a freelance journalist in her late-twenties living on the edge of Burnham Beeches not far from Slough. Blunt is worried about her brother in Suez, and dreams of a new European order, but her domestic concerns are commonplace: the procurement of food and cigarettes, the conduct of her lodgers, the physical and mental health of her friends. She is disappointed by her slothfulness, yet her writing has left us an eloquent testimony of an active mind stopped in its tracks. She only begins her account in December 1939; it is rare for an observer to have written continuously from the beginning of the war to its conclusion - real life tended to get in the way. There was no contract with M-O, but from the early correspondence we may surmise there was a vague agreement that their real names would not be used. I have found them pseudonyms, but all other details are unchanged.

This book runs from the days preceding the declaration of war to the midst of the Blitz in October 1940. Unedited, the five diarists' entries for the period account for about 1,400 pages and half a million words. Inevitably my selection has been influenced by what particularly captivates, intrigues and surprises me, and by the entries that advance the narrative in the most fluent way. I have tried to highlight links and themes as well as contrasts, and to most fairly represent the writers' true intentions throughout. At the end of the book I have attempted to find out what happened to the diarists as the war developed and their lives continued.

Every so often, all the diarists question the value of Mass-Observation and their contribution to it; they admit it takes considerable effort to maintain this additional task in their lives. In mid-May 1940, Pam Ashford reports on a Sunday afternoon stroll. 'I felt dead tired and crawled along,' she writes. 'If my great-grandmother had kept a diary on the Eve of Waterloo and recorded all the trivialities that I put into mine on the eve of this terrible battle that is coming, well I should think she was daft.'
Rather, I believe we should be immeasurably grateful. We are used to thinking of the first ten months of the Second World War as 'the phoney war', a period in which we sat in the park looking up at the sky. The diarists compare it to time spent in the dentist's waiting room and playing one last game of tennis before an inevitable thunder storm. It is true that there is some strange relief when the first raids begin, and the drills can be put to genuine use; there is excitement that the war has begun to involve those who felt they were not being tested. But we may see from these diaries that the early phase of the war was not a period in which nothing happened. As Maggie Joy Blunt attests, it was a time in which nothing and everything changed; we learn how the country prepared itself for terrible eventualities, and how varied were the opinions as to who was to blame. Despondency merges with elation, and the moods of our correspondents swing from day to day as updates reach them from abroad. The gloom of a sunken vessel is relieved by a Valentine's card; depression and flu evaporates with a meal of boiled rabbits.

Each diarist has their own system of news retrieval, a combination of BBC bulletins, press reports and newsletters, and letters from those involved abroad. They are more suspicious of authority than respectful of it; regularly their intuition keeps them a step ahead of the Official Version.
We may also learn the following: how to handle a stirrup-pump; what doesn't happen when a barrage balloon explodes; what a Soroptimist does; what Hitler's eyes were like; how poor radio comedy was and how Tommy Handley was not the comic genius of his generation; how the Canadians were the butt of jokes even in 1940; and how, when a printing firm explodes, Christmas cards are scattered all over a neighbourhood. We may also learn how much a second-hand Royal typewriter is worth at a time of hardship; what a 'lounge' was; what became of Italian ice cream shops how Del Monte Ground Coffee in vacuum tins, supposed to last for ever, is an utter failure, whereas Nestlé Café au Lait has a long life of usefulness; how sal volatile and Kruschen fix many personal problems; how popular were pixie hats; and why Churchill was not always regarded as the man for the job.

We read how utterly confusing were the air raid sirens; how people wondered what to do if the Nazis launched a genuine attack during air raid practice; why so many listened to Lord Haw Haw; how many people thought it would be useful to learn German; how batteries became the gift of choice; how the desire for a United States of Europe gathered force; how canned puffin was not such a distant prospect; and how much was known about the concentration camps.

We join the diarists at a time of uncertainty, but we leave them at a time of resolve. They surprise us just as they surprise themselves. In September 1940, Pam Ashford observes that we are approaching dangerous times, but she is eager to confront them. 'What a great thing it is to have been born in the 20th Century,' she notes. 'This supreme moment in the nation's history did not come in my great-grandparent's time, it is not something lying in wait for my great-grandchildren, but it is here in my time.' And now, in our time, we may truly understand what it was like.