To the Letter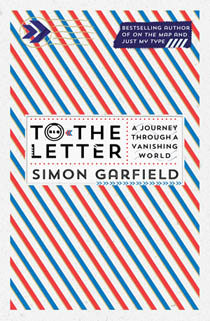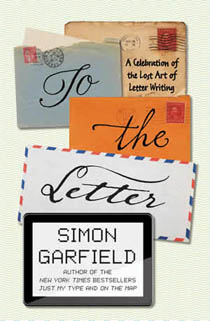 Letters have the power to grant us a larger life. They reveal motivation and deepen understanding. They are evidential. They change lives, and they rewire history. The world once used to run upon their transmission – the lubricant of human interaction and the freefall of ideas, the silent conduit of the worthy and the incidental, the time we were coming for dinner, the account of our marvellous day, the weightiest joys and sorrows of love. It must have seemed impossible that their worth would ever be taken for granted or swept aside. A world without letters would surely be a world without oxygen.
To The Letter is both a celebration and a lament, and hopefully an inspiration. But it also asks some proper questions, not least, 'How will we be able to tell our history without letters?' I make it clear in the book that I don't think the answer lies with emails.
Here, in random order, are some of my favourite passages to (hopefully) whet your appetite.
A story, perhaps apocryphal, of Oscar Wilde being so trusting of human nature that he would throw out stamped letters onto the street from his rooms in Chelsea, confident that a passer-by would post them in the nearest box.


The sequence of eight letters Leonard Woolf and Vanessa Bell wrote to Vita Sackville-West in the days after Virginia Woolf drowned herself in 1941. 'I do not want you to see in the paper or hear possibly on the wireless the terrible thing that has happened…She has been through hell these last days…Now we can only wait till the first horrors are over which somehow make it almost impossible to feel much. Forgive the scrawl.'


The abbreviation used by letter writers in Ancient Rome to enquire about a person's health and say that they were fine. Rather than write, 'If you're well, that's good – all's well with me', correspondents wrote SVBEEQV (si vales bene est, ego quidem valeo). It was the earliest, rather more modest version of SWALK.


As well as designing a special wallet to store stamps, Lewis Carroll also wrote a letter-writing guide. Some of it was rather obvious: write legibly, and before replying to someone's letter, make sure to read it through carefully first and send it to the correct address. And some of his advice reflected personal experience: If you write that you're enclosing a cheque or someone else's letter 'leave off writing for a moment – go and get the document referred to – and put it into the envelope. Otherwise, you are pretty certain to find it lying about, after the Post has gone.' (see the extract on this website for more).


Charles Schulz not only conducted a secret affair with a fan, but the passion he expressed in his letters to her (and kept from his wife) were often mirrored in his Peanuts strip. In one cartoon, Charlie Brown calls at Lucy's psychiatric help stand ('The Doctor Is In') and asks, 'Do you think monogamy is possible for humans, given how we're wired?'


I devote a chapter in the book to the business of selling valuable letters at auction, including famous items from Napoleon and Einstein. I met Felix Pryor, an expert on the subject who has compiled many sale catalogues and value estimates over the years, and he was lucid about the process. He told me about selling some of the letters Sylvia Plath wrote to Ted Hughes, and how he still occasionally opens an old book to find a personal letter from Hughes. Would he sell it, I wonder? 'I know I do this for a living, but the thought of [personally] selling something that someone's written? I'd rather starve.'


Phishing scams in emails are nothing new. In the 1870s, a circular began appearing in mailboxes throughout the US offering something that was too good to be true. 'Dear Sir, Your name was sent to me by a reliable person in your town. He said he knew you to be a man who was not adverse (sic) to making money in any way, manner or form, and that he knew you were up to snuff. Well, to be plain, I am dealing in counterfeit money…' The scheme was simple: you send $75 of genuine cash and you get $1,500 of fake cash (described as 'the best and safest ever put on the market'). Or you may send $400 and receive $30,000. This 'green goods' scandal made the scammers rich and participants less so: no counterfeit money was sent, and to whom would you complain?


Hard to beat the loopy personal experiments with the mail conducted by one Willie Reginald Bray. Thrilled at the precise wording of a post office guide from 1898, the young Bray, aged 19, began sending weirdness through the mail. One could, for example, send creatures through the post, including a live bee 'if confined in a suitable receptacle'. Bray decided to test the boundaries. He began by posting a rabbit skull and a turnip to himself, both of which arrived safely. He then took a dog to the post office, which was walked by a postman to the correct address. And then he posted himself on a foggy night. In December 1899 he may also have been the first person to send a postcard to Santa Claus Esq. (If you have evidence of an earlier example please let me or his biographer John Tingey know.)


The beautiful love letters that run through the book have not been published previously, and were a very late addition. A few weeks before deadline I was looking for something to complement some of the many famous letters I'd already quoted in the manuscript. I was eager to find a longer two-way. But I also wanted a longer two-way correspondence to illustrate the power of letters to transform lives. The letters between Chris Barker and Bessie Moore do just that, and I hope also serve as a powerful and compelling read. At some 25,000 words, they are but a glimpse of their entire correspondence (which runs to about 500,000 words). Thanks to Chris Barker's son Bernard and Katy Edge, who transcribed the letters and painstakingly administered the entire archive, you may now read all the letters at the Mass Observation Archive (by appointment).


I don't want to spoil the ending of the book, but it does involve the late Queen Mother in an unexpected way. Several chapters examine the protocol for starting and ending a letter, beginning with Ancient Greece ('Octavius to his brother Candidus, greetings'). But the Queen Mum really nailed the ending of a letter in the midst of war in February 1941. None of the usual 'farewell's and 'all the best's for her…