The Error World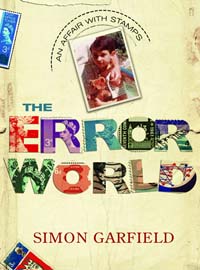 About the book
The Error World is a book about obsession and desire, and the search for fulfillment. It first came to life in Granta magazine, when the editor Ian Jack thought that my passion for rare postage stamps - specifically stamps with errors on them - might make an interesting piece. The more I thought about it, and the more I wrote, I realized that stamps and collecting had been an integral part of my life since I was a young child, and I was only just beginning to work out why. The Granta piece was well received, and it was clear to me that I had only just touched the surface.
The Error World is an attempt to explore several themes: how the passions one develops as a child don't really leave us; how a mania for collecting may be explained in psychological and emotional terms; and how - and this sounds grand - stamps may work as a metaphor for life.
But at its heart The Error World is a memoir, a unique personal account. It begins at a marriage guidance session and ends with the sale of my rare stamps, and en route I try to discover a little more about myself. There are many diversions, but at its root is that great and real thing that afflicts men of a certain age - the mid-life crisis. The book is personal but I hope universal, and I intend it to be both funny and honest. All men are passionate about at least one thing, and some are passionate about many: their lovers, their sports, their cars, their collections, their work. The Error World considers these passions, and the treacherous destinations to which they may lead.