Mini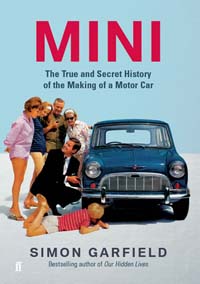 About the book
In the summer of 2008, I received an email from a woman who worked for BMW. The Mini would be 50 in May of the following year, and perhaps there was a book in it? Of course there was a book in it: there were about 50 books in it.
I went to see the people at the MINI plant at Cowley, near Oxford, the same place they'd made the car at the beginning. They didn't quite know what they wanted, but they knew what they didn't want. They didn't want something dull and official; a lot of corporate histories had been written about cars and their factories, and many were unreadable. They didn't want something about Twiggy and swinging London, or about blowing the bloody doors off – there were books like that, and very fine they looked too, but why print the same pictures and stories?
So I came up with a plan, and the book that emerged isn't too far from the original synopsis. The book is about the people who made the car in 1959 and 2009, some of whom have grand titles and some of whom do not. The thinking was: talk to the engineers, managers, assembly-line workers and marketing people, and I might get quite close to the soul of the car.
The Mini (original version) and the MINI (new version) are, of course, not like any other motor. They have a history and ethos that is not only unique, but also a surprising one. When the first Mini was sold in 1959, no one – not even its egomaniacal designer – guessed what a thing it would become: more than a car. People would talk of it not only as a means of transport but as a lifestyle and an attitude. People would think of the car and smile. How could this be? Why would marketing people claim that more drivers gave their Mini a name than any other car? How would a thin box of metal and wires become a welcome and indulged part of a human family?
The Mini of old is not the MINI of today – thank God. Its single greatest achievement – popularising the idea that smallness and not bulk is desirable – has held fast through half a century of great turbulence in the British car industry, and it may be the only constant. The car has improved beyond measure. It has a new style, a new size, a new price, but it maintains strong links with the past not just through its factory but through its ethos. It is no longer British, but this is not uppermost in the minds of the hundreds of Poles and Turks and Greeks and Ukrainians and Irish who turn up each day to build it.
As I write in the book's preface, making a car was not the task it once was. I had heard stories about Dante's Inferno, of oil slicks beneath men's feet, of industrial fatalities.
Cars had been built at Cowley for almost a hundred years, and amidst the grease and infernal clatter it concealed the most romantic story. This is where the great motor-car builder William Morris set up shop, where the cars of our parents and grandparents were made. It was where hundreds of thousands of people spent a lifetime welding metal together. And it was where the Mini reinvented itself as the MINI.
Born out of an economic and political crisis, it celebrates its fiftieth birthday during another one; once more it may be the best car for its time. When I turned up at the plant in 2008, it became clear that alongside the engineering and techno- logical feats lay a tale of immense human endeavour, and I hoped that perhaps an oral narrative assembly line could reveal new truths. The people I spoke to tell the story as best as they can remember it, and because the story of the Mini old and new means so much to them, they tend to remember it vividly and with great affection. I do wonder whether any other car has ever been so intensely fought for, or so wildly loved.